Where to Buy Ostarine? (Top 3 Ranked Companies)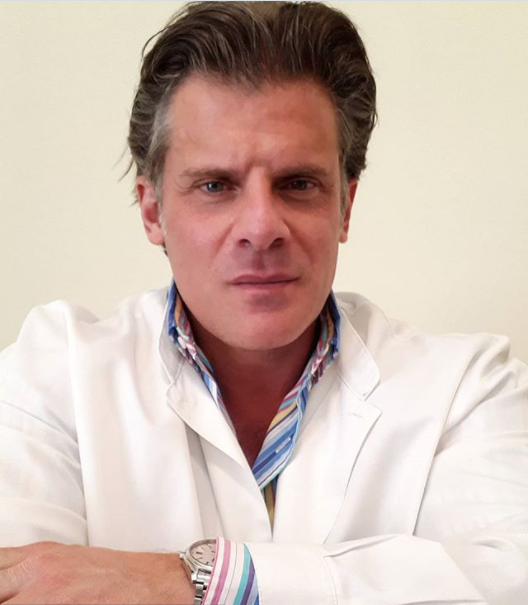 Disclaimer: SARMs are only to be used for research purposes, as they are non-FDA approved compounds and thus may cause adverse effects. If you have any questions or concerns, Dr. Touliatos is currently available for consultations.
---
Ostarine (MK-2866) is a popular SARM, initially synthesized by GTX Inc. — a biotechnology company in America.
Ostarine has shown great promise in clinical trials, with elderly people gaining notable amounts of muscle (+3% of total LBM) and significantly increasing strength on very small dosages (1). With moderate dosages we commonly see users gain up to 10lbs of lean muscle tissue.
Ostarine also causes reductions in subcutaneous and visceral fat, due to its positive effect on insulin sensitivity. This makes it a complimentary SARM for bulking or cutting, due to lean muscle gains and simultaneous fat loss.
Top 3 Ostarine Products
Sports Technology Labs (4.9/5)
Chemyo (4.5/5)
Amino Asylum (3.9/5)
1. Sports Technology Labs
Ostarine is available in liquid or powder form via Sports Technology Labs.
Ostarine liquid – $49.99 (25mg/ml – 30ml)
Ostarine powder – $69.99 (2 grams)
Best Ostarine Source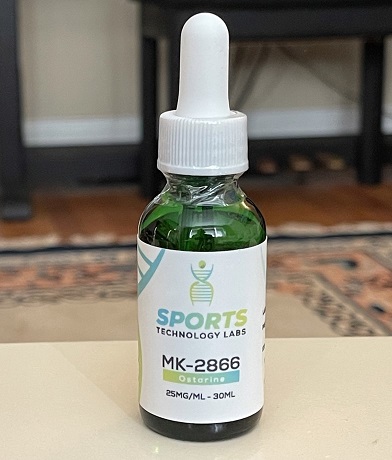 Sports Technology Labs is our #1 rated source for Ostarine, due to them consistently formulating products at >98% purity; which can be authenticated via independent COAs (certificates of analysis).
Discount code: Save 15% on Ostarine and other SARMs by using discount code inside15.
Value for Money (No Hidden Fees)
Not only are these very competitive prices, but Sports Technology Labs also offer a 5% discount when paying via Bitcoin. They have a 0% credit card fee policy, compared to Chemyo's fee of 7.95%.
>98% Purity
Ostarine from Sports Technology Labs is guaranteed to be authentic, with at least 98% purity, due to COAs (certificates of analysis) available to customers. These are supplied by a 3rd party independent testing company, known as Colmaric Analyticals. 
Fast Shipping & Excellent Communication
Those who buy Ostarine from Sports Technology Labs can expect their package to be delivered within 3-5 business days. This is the specified time listed on their website; however, customers often report packages arriving in 3 days.
Free shipping is available for US customers who order over $99. International customers can take advantage of free shipping on orders over $299.
If you have any queries about Sports Technology Labs' products or your order, they have a very fast response rate and friendly customer support. We have received email responses within minutes from the owner, who is in a different time zone, even when he was on vacation.
2. Chemyo
Ostarine liqiuid – $69.99 (25mg/ml – 50ml)
Ostarine powder – $39.99 (1 gram)
Value for Money
Ostarine from Chemyo is almost exactly the same price per ml as Sports Technology Labs once you factor in the 7.95% credit card fee. Customers can, however, avoid this fee by opting to pay via Bitcoin.
Ostarine in powder form is $10 more expensive (per 2 grams) than Sports Technology Labs.
Chemyo regularly offers 10% discount codes vs Sports Technology Labs' 15%.
>99% Purity
Chemyo guarantees a minimum of 99% purity on Ostarine and their other products, backed by 3rd party COAs.
This is 1% higher than Sports Technology Labs, making their products the purest on the market.
Fast Shipping, but Sporadic Communication
In our experience, we have sometimes received slow email responses from Chemyo, and even no response at all on a couple of occasions. This is certainly an area they could improve on to put their customers at ease.
Chemyo do deliver fast shipping (2-5 days for US customers). They also provide free shipping on orders over $100 for US customers and $275 for international customers.
3. Amino Asylum
Ostarine liquid $29.99 (20mg/ml – 30ml)
Ostarine powder – N/A
Excellent Value
If users want to buy Ostarine, but their budget is tight, Amino Asylum is a possible alternative — due to their low pricing strategy.
However, Amino Asylum does not provide COAs, thus there is a risk of not receiving genuine Ostarine (or an underdosed product).
Amino Asylum have generally received positive reviews online, albeit with a few complaints of bunk products (2). There will always be a guessing element with this company, due to a lack of 3rd party testing. However, they make our top three recommendations, due to their excellent pricing strategy with low-profit margins.
Shipping and Communication
There is no shipping information on the Amino Asylum website. However, customers generally report of fast shipping times (within 5 days), although it can vary depending on where you live.
Communication can also be slow from Amino Asylum, with an automated order confirmation upon order; but a lack of support when it comes to answering customers' concerns. They are potentially understaffed, having to fulfill high volumes of orders (a consequence of  their price point).
FAQs
Is Ostarine Legal?
Ostarine is only legal to purchase for research purposes. For example, if someone purchased it to conduct a trial involving rodents, this is acceptable. However, a 30-year-old bodybuilder buying Ostarine to enhance his body composition is illegal (with this being classed as cosmetic use).
Ostarine's lack of FDA approval, however, does not stop masses of men and women buying Ostarine online.
Will Ostarine Cause Side Effects?
We have found Ostarine to be the safest SARM. However, it will still produce some mild side effects.
For some users, there will be no obvious side effects, whereas others can experience any of the following:
Testosterone suppression
Raised liver enzymes
Increased blood pressure
Clitoral swelling in women (in high dosages of 20mg/day+)
The higher a user's Ostarine dosage, the increased likelihood of any adverse effects occurring. Other SARMs will also cause the above side effects, but with increased severity. 
Ostarine Dosage
A therapeutic dosage is yet to be established, due to a lack of FDA approval. However, the standard dosage and cycle we see used by men is 20mg/day for 8 weeks.
Women will commonly take 5-10mg/day for 8 weeks. Dosages exceeding this amount may increase the risk of masculinization.
What to Stack Ostarine With?
Our patients have responded very well to Ostarine-only cycles. This is considered the ideal protocol for novices who have not taken any SARMs (or anabolic steroids) before.
However, for those wanting further muscle and strength results, they may add RAD 140 to their stack, and possibly even Ibutamoren as a trio.
For maximum fat loss, Cardarine or Stenabolic can be stacked with Ostarine. These compounds will also significantly enhance muscle endurance (3).
Conclusion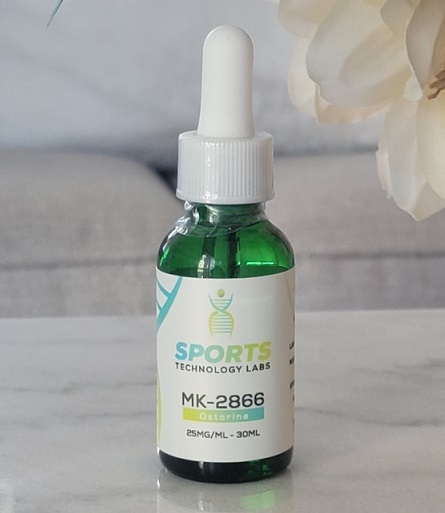 If you are wondering where to buy Ostarine or other SARMs — Sports Technology Labs is our recommended retailer.
Chemyo's Ostarine may be fractionally purer, but Sports Technology Labs' excellent pricing (with 0% credit card fees), generous discounts and excellent communication makes them our first choice.
Amino Asylum offers a more affordable Ostarine product, with the majority of their customers appearing to be happy with the results. However, with no COAs or guarantee of the ingredients; such a purchase comes with obvious risks.
Co Authors :